---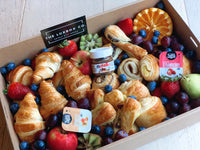 "It's Sure to Please a Crowd"
A variety of 24 mini pastries including, danishes and croissants.
Also included in the Luxbox:
Assorted seasonal fruit and spreads. 
DISCLAIMER: All our luxboxes are subject to change dependent on stock availability but the quality will never be compromised. Please be aware that our products may contain traces of nuts and dairy. We highly recommend that our pastries and luxbox treats are best consumed on the same day of delivery.